The 2 stages as seen from the audience.
There were also 2 large video screens for performance close-ups....here we see The Rascals' Felix Cavaliere on the right screen as an enlargement of him at the Hammond organ to the left of the same picture.
The backstage video crew controlling what appeared on the screens in front.
A rear view of the 2 stages, as see from the back stage area.
A small 'city of tents' was set up in the airplane hanger backstage, one for each performer.
John at one of many interviews conducted during the afternoon.
Michael & Danny backstage with Felix Cavaliere.
David Clayton Thomas with our own Charlie Wolf.
The Blood Sweat and Tears horn section.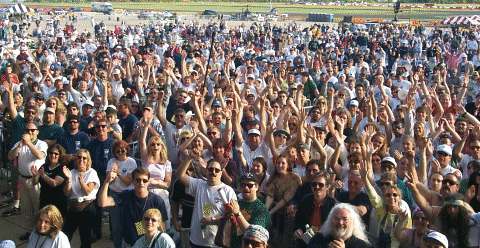 The Vetrock crowd enjoying the show.